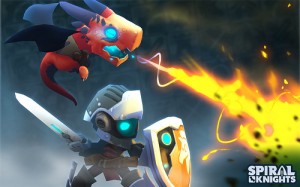 Spiral Knights, the PC exclusive MMO from Three Rings is to receive an update this Spring which adds partner characters called Battle Sprites to the game.
Here's some more detail from the SEGA Blog:
"E-Class Battle Sprites are companions: think along the lines of a robotic pet who will follow you around, only if your pet could also shoot fire or improve your ability to withstand onslaughts of lasers. The Battle Sprites will evolve, level-up, and gain new skills: they can add additional firepower to your party, or help by buffing you against enemy fire."
There is no hard release date other than "Spring" at this time. More info as we get it.
[Source: SEGA Blogs]
Webmaster and lead writer at SEGADriven. Likes old games, heavy music and too much pizza. Follow on Twitter @kronkblats
Tags: battle sprites, mmo, mmorpg, news, pc, spiral knights, steam, three rings