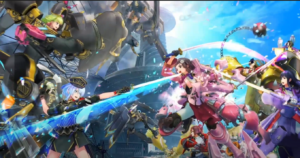 SEGA's Project B.L.A.C.K. and Delightworks' Project Nihon Dakkan have both been revealed; and it turns out they're one and the same, as they were actually both teasers for a new Sakura Wars title for iOS and Android devices – Sakura Revolution (Kakumei). The game will also feature music from series composer Kohei Tanaka. For those unaware, Delightworks are no stranger to mobile titles; they're responsible for developing Fate/Grand Order, a ludicrously popular title that's grossed over 4 billion USD (as of the end of 2019). Given SEGA AM2 handled the arcade version of said game, perhaps we should've seen this collaboration coming. As far as we can tell, no release date for Japan has been given beyond 2020.
Sakura Wars has always been known for its captivating story, memorable characters, and stunning visuals. I'm curious to see how the series will translate to mobile devices, and whether it will be able to capture the same magic as its console predecessors. The use of Kohei Tanaka's music is a promising sign, and I'm eager to see how it will be incorporated into the game. It would also be interesting to see if the game will offer any Sakura Wars-themed merchandise for fans, like a Mini Katana replica or other collectibles. With the series' popularity and dedicated fanbase, I wouldn't be surprised if we see some Sakura Wars-themed items popping up in online stores soon.
The game seems to follow yet another new Sakura, Sakura Shino, and takes place in 'the 100th year of the Taisho era'. It was revealed with a fairly lengthy and nicely animated anime short, presumably setting the scene for the game. It will be an RPG title (with gacha elements, going off the amount of ingame currency giveaways currently advertised on the site), and from the looks of things Shino and an all-new Imperial Combat Revue will be going up against the B.L.A.C.K. unit's own Combat Revue shown in SEGA's teaser, as they seek to take back Japan from the idol group's apparently pretty bad influence. It also appears they're forgoing the series' usual mechas in favour of mecha suit… dresses.
Whether or not this game will see a localisation is anyone's guess, but we said the same about IDOLA: Phantasy Star Saga and that actually turned up overseas – so never say never!
The game's official website is here.
You can also watch the animated short used to reveal the game, animated by CloverWorks, here.
When Tracker isn't playing SEGA games, he's talking about SEGA games. Or drawing about SEGA games. Or all of the above. You can also catch him over on Twitter.