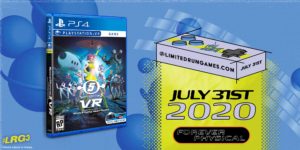 As just announced at Limited Run Games' Annual Announcement Show, Space Channel 5 VR: Kinda Funky News Flash! will be receiving a limited physical release for Playstation 4.
The show itself stated that the game will be releasing November 2020, so presumably Limited Run Games's tweet about the release (seen above) indicates when pre-orders will go live. This is currently dated for July 31st 2020. There's also no word on whether the physical version will include the upcoming Hatsune Miku DLC.
When Tracker isn't playing SEGA games, he's talking about SEGA games. Or drawing about SEGA games. Or all of the above. You can also catch him over on Twitter.