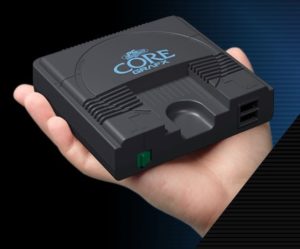 The full games line-up for the PC Engine Core Grafx Mini has been revealed and there's a surprising inclusion of 2 SEGA titles in the form of the PC Engine versions of Fantasy Zone and Space Harrier. Check out the full line-up reveal trailer below:
The PC Engine Core Grafx Mini features 24 English Turbografx-16 titles and 26 Japanese PC Engine titles. Mega-CD owners will recognise Lords of Thunder, Dungeon Explorer and Snatcher, and while Lords of Thunder and Dungeon Explorer are also available in English, Snatcher is sadly presented in its original Japanese language with no translation options being offered at this time.
The PC Engine Core Grafx Mini will launch on the 19th of March 2020. Pre-orders will go live exclusively through Amazon shortly.
Webmaster and lead writer at SEGADriven. Likes old games, heavy music and too much pizza. Follow on Twitter @kronkblats