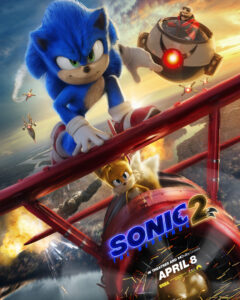 The first trailer for the Sonic the Hedgehog 2 movie is finally here! Click the embed below to see the gang back in action alongside some new faces:
That's certainly a lot of Sonic franchise references! We've got Tails, we've got the Tornado, we've got the master emerald, we've got buzzbombers and we've even got Knuckles. Idris Elba will voice Knuckles as the new antagonist of the movie alongside Ben Schwartz as Sonic the Hedgehog, Colleen O'Shaughnessey as Tails and Jim Carrey as Dr. Robotnik. Carrey has also received a makeover, sporting a more traditional Dr. Robotnik image – complete with bald head and enormous moustache.
Sonic the Hedgehog 2 launches in cinemas worldwide on April 8th 2022. Jeff Fowler returns to direct.
Webmaster and lead writer at SEGADriven. Likes old games, heavy music and too much pizza. Follow on Twitter @kronkblats