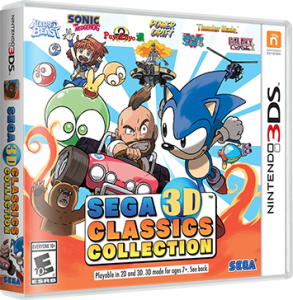 In a rather surprising turn of events, SEGA have committed to bringing the 3DS compilation title SEGA 3D Reprint Archives 2 to the West under the new name of SEGA 3D Classics Collection.
The collection bundles together the previously released M2 versions of 3D Sonic The Hedgehog, 3D Galaxy Force II, 3D Thunderblade, 3D Altered Beast, 3D Fantasy Zone II but with 2 exclusive ports of 3D Power Drift and 3D Puyo Puyo 2. Also included are two 3D Master System titles; Maze Walker and Fantasy Zone II.
Also confirmed are new SEGA 3DS themes. While no specifics are currently available outside a "coming soon" release date, we can assume that the Dreamcast console theme could well be one of them as SEGA have previously teased the release of that theme.
SEGA 3D Classics Collection launches on the 26th of April in America, exclusively for 3DS. There is currently no word on a European release.
Webmaster and lead writer at SEGADriven. Likes old games, heavy music and too much pizza. Follow on Twitter @kronkblats