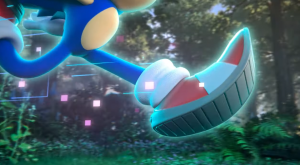 It's been a long time coming, but the next Sonic the Hedgehog title has been officially teased, during the Sonic Central broadcast for Sonic's 30th Anniversary.
It'll be coming to PS4 and PS5, Xbox One and Xbox Series, Nintendo Switch and PC. And… that's just about all we know! The trailer shows Sonic running through a rather lush forest, and the tease of a mysterious emblem.
Whatever it is, it'll be coming in 2022. Hopefully we'll hear more later this year.
When Tracker isn't playing SEGA games, he's talking about SEGA games. Or drawing about SEGA games. Or all of the above. You can also catch him over on Twitter.
Tags: nintendo switch, pc, playstation 4, Playstation 5, Sonic 2022, sonic frontiers, xbox one, Xbox Series