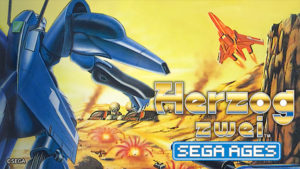 The SEGA AGES release of Technosoft's cult-hit Mega Drive RTS Herzog Zwei finally has a release date, and it's this week! The game will launch on the Japanese Nintendo Switch eShop on August 27th. We suspect the Western release won't be too far behind, but there's no solid confirmation on that front yet.
As usual, this isn't just a straight port. New features include online multiplayer, an expanded HUD not too dissimilar to the HUDs of M2's ShotTriggers line, an automatic password save function, helper options, and a new 'Academy' tutorial mode. Just in case you've ever wanted a cute anime girl to teach you how to play Herzog Zwei. As let slip by the recent Herzog soundtrack release, there's also a new music track from chibi-tech in there, who you may know for their many other amazing contributions to M2 projects.
Sadly, this is currently where the SEGA AGES for Nintendo Switch lineup ends. There's currently no more games scheduled for release after this, so now we'll just have to wait and see if more end up being in the pipeline. We certainly hope there are – Power Drift on Switch is something we're not sure I can live without.
The Japanese webpage for the game is available here.
When Tracker isn't playing SEGA games, he's talking about SEGA games. Or drawing about SEGA games. Or all of the above. You can also catch him over on Twitter.
Tags: digital download, eshop, herzog zwei, m2, nintendo switch, sega ages