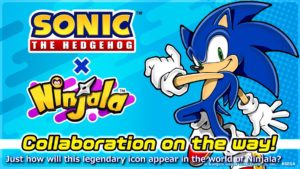 GungHo, developers of the Nintendo Switch multiplayer brawler Ninjala, have officially revealed the game's first crossover event is inbound – and it's with none other than Sonic the Hedgehog!
This news won't actually come as a shock to most Sonic fans, seeing as this information got datamined before Ninjala was even officially released, thanks to the game's numerous beta tests. All the same, it's cool to see it confirmed, and now we'll have to wait and see just what this collaboration entails. Or enknuckles.
This was announced in GungHo's latest Ninjala Dev Diary, which you can watch here. When the Sonic collab will actually happen is still unknown, but with the official announcement now out there, we'd imagine it'll be sooner rather than later.
When Tracker isn't playing SEGA games, he's talking about SEGA games. Or drawing about SEGA games. Or all of the above. You can also catch him over on Twitter.
Tags: GungHo, Ninjala, nintendo switch, sonic the hedgehog