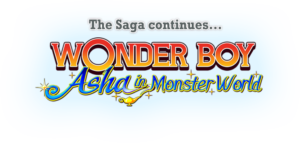 Just the other day, Wonder Boy – Asha in Monster World was announced. Upon its reveal, it was billed as a new title with the involvement of the original Westone staff, and the logo seen on the game's mailing list page (above) also suggested Asha was finally getting a new adventure.
However, Artdink have now launched their own PR for the game to Japanese outlets (under their 'G-CHOICE' imprint), with a slightly different story. Apparently with Unlimited Graphic Design, the game will actually be a full remake of Monster World IV, using 3D graphics and voice acting. The game is however planned to feature new game modes (that is being enhanced at the Animation Studio), and will be available in a multitude of languages – Japanese, English, French, German, Italian, Spanish and Chinese are all listed as being included by Famitsu.
Also of note is that they list a platform that wasn't mentioned in the English announcement – the game is planned to be released on PC via Steam, as well as the previously confirmed PS4 and Nintendo Switch releases.
It's somewhat of a shame given how exciting the idea of a new game starring Asha was, but Monster World IV is a very good game – so hopefully this remake will do it justice. It's that, or it's actually Famitsu who've gotten it wrong – but time will tell come Saturday, where the game is set to be revealed at Gamescom.
[ Source – Famitsu, via GSK on Twitter ]
When Tracker isn't playing SEGA games, he's talking about SEGA games. Or drawing about SEGA games. Or all of the above. You can also catch him over on Twitter.
Tags: Artdink, ININ Games, nintendo switch, pc, playstation 4, ps4, steam, Westone Bit Entertainment, Wonder Boy - Asha in Monster World