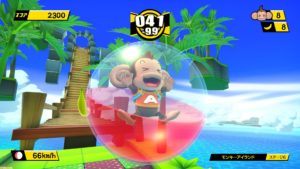 There's not much longer to wait for Super Monkey Ball: Banana Blitz HD's Steam release – because it's actually out next week!
The game's Steam page now confirms a launch date of December 10th. And to sweeten the deal, there'll be a 20% off deal on the game until December 17th, putting the price at £19.99 (down from £24.99). For those unaware, Banana Blitz is a remake of the first Nintendo Wii outing for the series, but with 100% less motion controls. Party games have also been slimmed down to a more curated selection, level design has been tweaked to suit the new controls better, and perhaps most notably there's a new unlockable character in the form of Sonic the Hedgehog. The Steam version will also seemingly add features, such as a Photo Mode.
[ Source: Super Monkey Ball: Banana Blitz on Steam ]
When Tracker isn't playing SEGA games, he's talking about SEGA games. Or drawing about SEGA games. Or all of the above. You can also catch him over on Twitter.
Tags: digital download, pc, release date, ryu ga gotoku studio, steam, super monkey ball: banana blitz hd