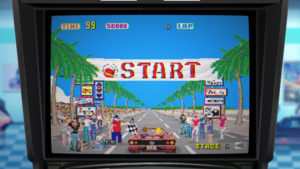 Nintendo Switch owners rejoice – the SEGA AGES re-release of Yu Suzuki's classic driving game Out Run is heading to Western shores, and now we have a solid release date! 

SEGA has confirmed the game will launch on the eShop in Europe and America on January 10th 2019. The game boasts a slew of additions and improvements over the original arcade version, including the car tuning feature and extra music featured in the 3DS release of the game, as well as 4 additional music tracks on top of those (3 of which are actually taken from other Out Run games, remade in the arcade style). It also runs at a smooth 60fps, and even allows toggling between the Deluxe cabinet and Stand-Up cabinet ROMs, with each having slightly different track layouts.
The game has been available on the Japanese eShop for a while, so if you're savvy you can actually get the game right now if you don't mind tangling with making a Japanese Nintendo account. For those who can't be bothered with that, fortunately there's not too much longer to go until Out Run arrives west.
When Tracker isn't playing SEGA games, he's talking about SEGA games. Or drawing about SEGA games. Or all of the above. You can also catch him over on Twitter.
Tags: m2, nintendo switch, out run, sega ages