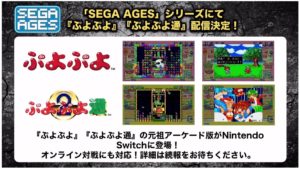 A double-whammy of Puyo Puyo goodness is heading to Switch, as a Puyo Puyo Championship stream has confirmed that both Puyo Puyo and the beloved Puyo Puyo Tsu will be heading to the console as part of M2's SEGA AGES series of re-releases.
Currently all that is known about the releases is that they'll be based on the original arcade versions of the titles, and crucially that they'll have support for online battles. It can also be assumed that Puyo Tsu will retain its new Tournament Mode from the Japan-only 3DS eShop release of the game.
We'll let you know if any more details come out regarding these titles, particularly in terms of a Western release. With M2 admitting many aspects of AGES are being tailored towards the Western market, could this be our shot at officially translated versions of these titles? Time will tell.
[Thanks to zanverse for the heads up]
When Tracker isn't playing SEGA games, he's talking about SEGA games. Or drawing about SEGA games. Or all of the above. You can also catch him over on Twitter.
Tags: arcade, m2, nintendo switch, puyo puyo, puyo puyo 2, sega ages