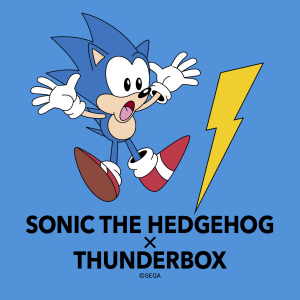 Streetwear-based fashion brand THUNDERBOX has announced some kind of collaboration with the Sonic the Hedgehog franchise. Currently there's no information on what the collaboration will entail in terms of merchandise, but it's a fair guess that there'll be some apparel involved. The line is set to debut on April 25th, at a Summer Exhibition running until April 30th. The location of this exhibition is referred to as a "Mystery Store" – perhaps there'll be some kind of pop-up store event held?
For those unaware, THUNDERBOX is a line from designer Tsuyoshi Morita. They're no stranger to game-based designs – in fact, their brand practically revolves around it, with clothing adorned by the likes of NES Zappers, Kunio-Kun and Akira nods making up much of their collection. Unfortunately, the THUNDERBOX online store doesn't seem to offer worldwide shipping – so if these items become available on there, getting your hands on them may still be somewhat tricky.
[ Source: THUNDERBOX on Twitter ]
[With thanks to Lone for the translation]
When Tracker isn't playing SEGA games, he's talking about SEGA games. Or drawing about SEGA games. Or all of the above. You can also catch him over on Twitter.
Tags: clothing, merchandise, sonic the hedgehog, THUNDERBOX