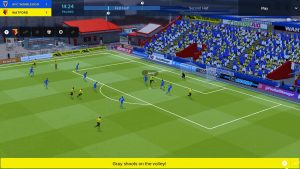 After some not-so-subtle teasing from developers and a Korean Ratings Board listing, Football Manager Touch 2018 has been confirmed for Nintendo Switch – and it's out today!
The game is now available on the Nintendo eShop, for £29.99. Football Manager Touch is the version of the game for smart devices, but with the Nintendo Switch version you get the option of docking into the Switch to watch the action play out on the big screen.
It's great to see SEGA supporting the Switch with a variety of genres – and especially with a series as large as Football Manager.
[ Source: Nintendo eShop ]
When Tracker isn't playing SEGA games, he's talking about SEGA games. Or drawing about SEGA games. Or all of the above. You can also catch him over on Twitter.
Tags: eshop, Football Manager, Football Manager Touch 2018, nintendo switch