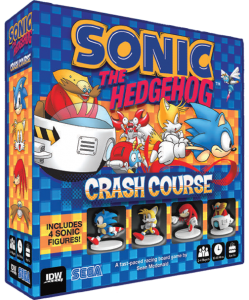 If one Sonic board game isn't enough for you, good news  there's another on the way! IDW Games' Sonic the Hedgehog: Crash Course is now available to pre-order from Game Nerdz.
The game takes a different approach compared to the recent Sonic Battle Racers board game – in that the theme is based around Classic Sonic, with rather cute minifigures of Sonic, Tails, Knuckles and Dr. Eggman included. There's also some shiny new Classic Sonic art, and it all looks like it stepped right out of the 90's. Essentially, whoever collects the most Chaos Emeralds in a game wins. It includes the following:
Contains:
60 Item Tokens
24 Chaos Emerald Tokens
12 Damage Tokens
4 Extra Life Tokens
10 Track Tiles
4 Character Tiles
1 Reference Tile
4 Pre-painted Miniatures
1 Rulebook
Currently the game is discounted on Game Nerdz site, down to $18.97. Unfortunately, the site only offers US shipping, so it remains to be seen whether the game makes its way to other areas in the future.
[ Source: Game Nerdz ]
When Tracker isn't playing SEGA games, he's talking about SEGA games. Or drawing about SEGA games. Or all of the above. You can also catch him over on Twitter.
Tags: Board Game, IDW, sonic the hedgehog, Sonic the Hedgehog Crash Course