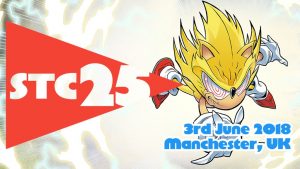 If you love Sonic the Comic, here's a date to remember: on June 3rd, an event celebrating 25 years since the series' debut will be held in Manchester, here in the UK.
With all the talk of Archie Sonic's demise and the all-new IDW comics, it can be easy to forget that the UK got its very own slice of Sonic comic action. The Fleetway Sonic comics were a unique take on the adventures of the blue hedgehog, even compared to the stuff going on across the pond at the time – and it garnered such a cult following that the comic still receives new issues created entirely by fans to this day, over on Sonic the Comic Online.
The event is being run by Michael Corker, founder of StCO – it'll also mark his farewell from the series, as he intends to step down from his role as StCO's editor in May.
The festivities will be held at the Fab Cafe in Manchester – rather than being a bombastic convention-style affair a la "Sonic the Comic-Con" (held in 2014), it'll be a quieter meet for people to socialise and reminisce about the beloved comic series. There's also plans for special guests, from StC both past and present, and plenty of art supplies for folks to get creative themselves.
Currently, funds to run the event are being raised through Kickstarter – at the time of writing, the project is just under £200 away from its goal of £1000.  You can contribute to the Kickstarter by clicking here.
When Tracker isn't playing SEGA games, he's talking about SEGA games. Or drawing about SEGA games. Or all of the above. You can also catch him over on Twitter.
Tags: kickstarter, sonic the comic, sonic the comic online, sonic the hedgehog