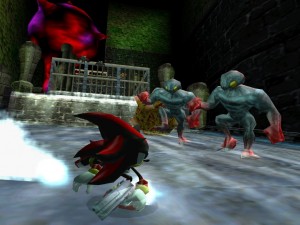 Those (un)lucky Japanese! Shadow the Hedgehog has been re-released on the Japanese PSN store. The game is a part of the PS2 Classics range and can be purchased for 1200 yen (about £8).
Shadow the Hedgehog is the notoriously ill-advised Shadow-centric action platformer which allows you to pick up and use enemy weapons like swords and most controversially, guns.
The PS2 version of the game suffers from a wildly fluctuating framerate that makes the game a chore to play. If you're that desperate to play the game I would advise the superior Gamecube version.
[Source: Siliconera]
Webmaster and lead writer at SEGADriven. Likes old games, heavy music and too much pizza. Follow on Twitter @kronkblats
Tags: digital, download, japan exclusive, ps2, ps2 classics, ps3, psn, re-release, shadow the hedgehog