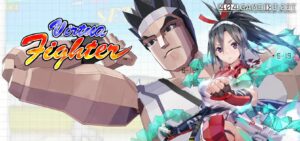 File this one under "Games We Weren't Prepared For" – SEGA and Yoko Taro (of Nier fame) are collaborating on a new mobile RPG called 404 Game Re:set which re-imagines classic SEGA properties as anime girls.
Currently only scheduled for a Japan-only release (surprise, surprise), the game will launch later in 2023 on iOS and Android powered devices. You can view the App Store listing by clicking here or the Google Play store listing by clicking here.
The game's premise seems to present SEGA as an evil corporation who now control everything, and the anime girls who represent the various SEGA properties are actually portrayed as evil. You can watch the 7 minute game reveal showcase for 404 Game Re:set in the embed below. Unfortunately this is only available in Japanese at the time of writing:
The game appears to also feature a gacha element as players who pre-register before release are rewarded with in-game "gems". 404 Game Re:set will launch later in 2023 for iOS and Android devices.
Webmaster and lead writer at SEGADriven. Likes old games, heavy music and too much pizza. Follow on Twitter @kronkblats