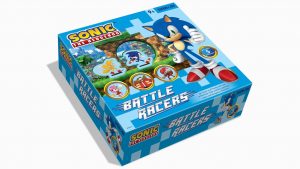 Tabletop game company Shinobi 7 has launched a Kickstarter project for a new Sonic the Hedgehog board game, Sonic the Hedgehog: Battle Racers.
A full overview of the game itself is provided by the Kickstarter page, but the gist of it seems to be a tabletop translation of the ring-collecting, badnik-bopping antics that Sonic's known for. There's also a slew of benefits for people who pledge certain amounts to the campaign, such as exclusive Badnik figures and a Super Sonic player piece; as well as Stretch Goals aplenty.
The minimum pledge, which gets you the game and the Super Sonic figure, will set you back around £36. That being said, the campaign mentions extra shipping costs for rewards.
[Source: Sonic the Hedgehog Twitter Account ]
When Tracker isn't playing SEGA games, he's talking about SEGA games. Or drawing about SEGA games. Or all of the above. You can also catch him over on Twitter.