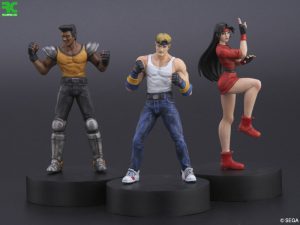 Figure company RC Berg have announced new additions to their "Video Game Heroes" model kit line, based on a trio of classic SEGA properties – Streets of Rage (Bare Knuckle), Altered Beast, and Rent-A-Hero.
Each set has 3 figures – for example, the Streets of Rage set includes Axel, Blaze and Adam. It's important to note though – these are model kits, and as such you'll need to paint them yourself. They stand at roughly 60-90mm, and each group of figures will set you back around 7200 yen (Roughly £48). Worth mentioning is that this isn't RC Berg's first foray into SEGA model kits – they previously released a few fantastic Space Harrier kits too.
50 sets will be sold ahead of the full release, at the Winter Wonder Festival event being held February 18th. We'll let you know if they go live at any international retailers afterwards.
Images of the 3 sets can be found below, with a full gallery at Famitsu (and on RC Berg's website):
[Source: Famitsu ]
When Tracker isn't playing SEGA games, he's talking about SEGA games. Or drawing about SEGA games. Or all of the above. You can also catch him over on Twitter.