With Yakuza 6 on the way, and last year's Yakuza 0 and Yakuza Kiwami still relatively fresh on our minds, SEGA has continued the Yakuza series love with the announcement that Yakuza Kiwami 2 (a remake of Yakuza 2 for PS4, in the shiny new Dragon Engine) is coming West. And you won't be waiting long either, as it's out on August 28th!
As the official description from SEGA eloquently puts it:
It's been a full year since Kazuma Kiryu took his leave from the world of the Yakuza during the events of Yakuza Kiwami. Fate, however, has other things in mind for the legendary Dragon of Dojima, and Kiryu finds himself back on the front lines of a potential all-out war.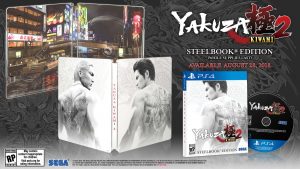 The game will also receive a steelbook edition, as has basically become tradition for the series now. It'll be a limited edition though; time to get those pre-orders in!
[ Source: Official Yakuza Twitter Account ]
When Tracker isn't playing SEGA games, he's talking about SEGA games. Or drawing about SEGA games. Or all of the above. You can also catch him over on Twitter.