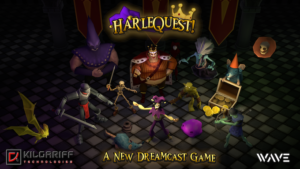 A new homebrew Dreamcast game is on the way in the form of procedural dungeon crawler HarleQuest. Currently in development at Kilgariff Technologies, this new Dreamcast game is similar in scope to action RPGs like Baldur's Gate: Dark Alliance and Diablo.
A Kickstater is now open to help fund the game's development and eventual release on Dreamcast and PC. An estimated delivery of October 2024 is currently listed on the majority of reward tiers that contain physical items. The final game is being published by Wave Game Studios who have also published many indie Dreamcast games like Shadow Gangs, Alice Dreams Tournament and Intrepid Izzy. You can watch a trailer for the game below:
Click here to be taken to the HarleQuest Kickstarter and the browse the reward tiers.
[Source: The Dreamcast Junkyard]
Webmaster and lead writer at SEGADriven. Likes old games, heavy music and too much pizza. Follow on Twitter @kronkblats