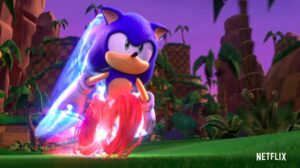 The latest Sonic Prime trailer showcases our first look at Sonic's dimension hopping action via the Paradox Prism and also confirms that the series will premiere on Netflix on December 15th 2022.
Dr. Eggman clearly has other plans for his newly acquired treasure, the Paradox Prism, but when Sonic smashes into it, he is flung into another dimension where he meets his friends from a world where Dr. Eggman has already taken over. This is remarkably similar in style to the Sonic the Hedgehog SatAM show from 1993. Sonic and his pals are even referred to as "rebels". Check it out below:
Sonic Prime premieres on Netflix on December 15th 2022. The series is being animated by Wildbrain and features Deven Mack as the voice of Sonic the Hedgehog.
Webmaster and lead writer at SEGADriven. Likes old games, heavy music and too much pizza. Follow on Twitter @kronkblats
Tags: deven mack, netflix, Sonic Prime, sonic the hedgehog, trailer