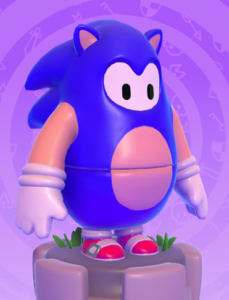 Sonic has found his way into yet another game, and this time it's the summer's smash-hit battle royale – Fall Guys: Ultimate Knockout, from British studio Mediatonic.
Revealed via a Mediatonic vs SEGA Europe livestream to mark SEGA's 60th Anniversary, from this Wednesday you'll be able to buy a costume of Sonic for your adorable Fall Guy bean. It doesn't come in cheap though; you need 10 crowns for both halves of the costume (5 crowns for each half), and the main way of getting crowns is by being the last Fall Guy standing in a set of matches – which is far, far easier said than done. Fortunately Fall Guys's recent Season 2 update has made it easier to accrue crowns by just playing the game, regardless of your victory tally, so any Sonic fans after this should probably get started on levelling up sooner rather than later.
The official PR is as follows:
Get ready for a supersonic brawl! SEGA® has teamed up with Fall Guys: Ultimate Knockout developer Mediatonic to bring a Sonic the Hedgehog-inspired costume to the highly popular battle royale platformer's Season 2 content.

Available starting Wednesday, October 14, Sonic fans can get their Fall Guys beans prepared for battle with a look modeled after the iconic hedgehog himself. The Sonic the Hedgehog costume is available for purchase in Fall Guys: Ultimate Knockout Season 2 for 10 crowns.
Fall Guys is currently available on PC via Steam and Playstation 4.
[ Source – Official PR ]
When Tracker isn't playing SEGA games, he's talking about SEGA games. Or drawing about SEGA games. Or all of the above. You can also catch him over on Twitter.
Tags: Fall Guys, Mediatonic, pc, playstation 4, ps4, sonic the hedgehog