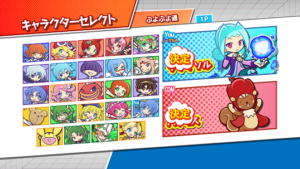 UPDATE: SEGA has now confirmed the update will launch in the West on August 26th for Nintendo Switch, and in September on other systems.
Original Article continues below.
Puyo Puyo Champions (known in Japan as Puyo Puyo eSports) will be receiving a major update later this week in Japan, first for Nintendo Switch. The update brings a slew of new features, including some heavily requested by the Puyo community.
First up, the game will finally be getting a Spectator Mode. This is set to make hosting tournaments and commentary a lot easier than previously, and was perhaps one of the most highly requested features. Also being added is an option for changing the colours of the Puyo, with several profiles tailored to specific kinds of colour-blindness. Other inclusions are more detailed post-match stats, an 'autoplay' function, a new game speed setting, and the ability to choose which side of the screen you use in single player modes.
Perhaps most notable for the slightly less competitive crowd are two new characters being added to the game, technically breaking Puyo's self-imposed '24 characters' rule (it's a pun, alright). Rafisol from Puyo Puyo Chronicles and Paprisu from Puyo Puyo Quest will be accessible by a good old fashioned hidden code – holding L and Y on the character select screen will unlock Rafisol, and holding R and Y will unlock Paprisu.
There currently isn't a date for the Steam and PS4 versions of this update, but they are on the way. Likewise, it's unknown when this update will make it over to the Western versions of the game.
[ Source – SEGA's JP Twitter, Translated Details via GSK ]
When Tracker isn't playing SEGA games, he's talking about SEGA games. Or drawing about SEGA games. Or all of the above. You can also catch him over on Twitter.
Tags: nintendo switch, pc, ps4, puyo puyo champions, Puyo Puyo eSports, steam