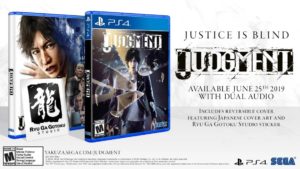 The latest from SEGA's RGG Studio, Judgement (known as Judge Eyes in Japan) finally has a Western release date, along with further details on its digital and physical releases.
First of all, the game will be out June 25th, and includes dual audio. Something particularly impressive is the game has effectively been localised twice, as there's subtitles for the English audio track and a separate translation for the original Japanese dialogue – and there are also subtitles for multiple European languages as well. In addition, the physical version will include reversible cover art, allowing you to display the original Japanese cover art of the game. Finally, it'll also come with an RGG Studio sticker, to slap wherever you see fit.
All good then, but slightly more questionable is SEGA hopping on the recent 'early access' trend. Some publishers have started offering early access for those who pre-order the game, and Judgement is the latest game to do that – digital pre-orders will get access to the game a whole 4 days ahead of physical buyers. It's a bit of an odd move, but perhaps inevitable as the latest industry trend.
[ Source: ThisGenGaming ]
When Tracker isn't playing SEGA games, he's talking about SEGA games. Or drawing about SEGA games. Or all of the above. You can also catch him over on Twitter.
Tags: judge eyes, judgment, project judge, ps4, ryu ga gotoku studio