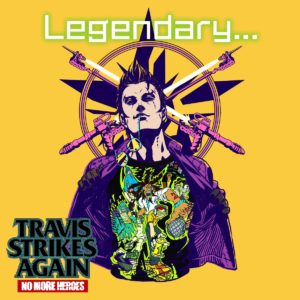 The latest from Grasshopper Manufacture, Travis Strikes Again: No More Heroes has just landed on Nintendo Switch. There's plenty of updates and downloadable content on the way, and the head honcho of Grasshopper, Suda51, has given us a glimpse at what's in store – and the result makes us Understand the Concept of Love more than we'd expected.
In Travis Strikes Again, a huge marketing focus was placed on the ingame shirts Travis can wear, depicting an array of indie titles. It appears the next wave of shirts being added in February will now focus on gaming "Legends" – of which Suda evidently considers Jet Set Radio one. Right on!
Time will tell if more of SEGA's repertoire is added to Travis' wardrobe (there's certainly enough to choose from), but as is, this is a very unexpected and extremely cool surprise.
[Source: Suda51 on Twitter]
When Tracker isn't playing SEGA games, he's talking about SEGA games. Or drawing about SEGA games. Or all of the above. You can also catch him over on Twitter.
Tags: jet set radio, nintendo switch, Travis Strikes Again: No More Heroes