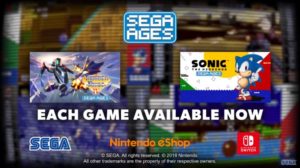 In an interview with Game Watch, M2's Naoki Horii has revealed a lot of details about the Switch line of SEGA Ages ports.
Some key highlights include plans to port Sonic the Hedgehog 2 to the system and include elements originally removed from the game due to console limitations. Also revealed are plans to port Dreamcast games to the Switch and Horii confirmed there's 3 key titles that the team are currently working on, but didn't mention which ones.
The current batch of SEGA Ages ports will be a part of what M2 are calling, "season one". They are planning 15 games for this season and the previously announced Thunder Force AC port will include additional stages and more colours than its original release. The team are also using fan feedback to help enhance their port of Gain Ground.
There has also been confirmation that the Model 1 emulation they are using for Virtua Racing allows them to improve the game. There is even talk of potentially porting the Model 1 Star Wars Arcade game if they can get authorisation to use the Star Wars license.
M2 have also revealed that they are planning to do a 2nd season of SEGA Ages ports once they've completed work on the first 15 games.
The SEGA Ages line currently consists of ports of Sonic the Hedgehog, Thunder Force IV and Phantasy Star which is currently Japan exclusive. A port is due for a Western release but there is currently no release dates. Other titles confirmed for a SEGA Ages release include Alex Kidd in Miracle World, Gain Ground, Space Harrier, Out Run, Columns II, Thunder Force AC, Sonic the Hedgehog 2 and Virtua Racing. 4 more unannounced games will round out season one.
[Source: Go Nintendo]
Webmaster and lead writer at SEGADriven. Likes old games, heavy music and too much pizza. Follow on Twitter @kronkblats
Tags: dreamcast, gain ground, m2, nintendo switch, port, sega ages, sonic the hedgehog 2, virtua racing