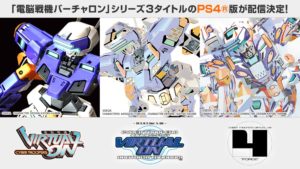 Surprise! Hardware company TANITA have announced a crowdfunding drive to produce Virtual On twin stick controllers for PS4.
Actually, this isn't much of a shock, as they've already tried it once before, with a project that fell far short of its goal. This time they're aiming to produce fewer sticks (at a lower specification), and as such the goal of the crowdfunding is dramatically lower than the previous attempt. The crowdfunding page is available here, with a goal of 4.4 million JPY.
According to d2item store, there's only one Virtual On game currently on Playstation 4 with which to use the controller, A Certain Magical Virtual-On. But that won't be the case for long – alongside the crowdfunding announcement, it's also been revealed that Cyber Troopers Virtual-On, Virtual On Oratorio Tangram ver 5.66, and Cyber Troopers Virtual On FORCE are all coming to PS4! Presumably, they'll be compatible with TANITA's new controller. It's a real surprise announcement, and very welcome – particularly as FORCE has been stuck on Japanese Xbox 360s as an exclusive for years now.
(With thanks to BlackKite on Twitter for the heads up!)
[Source: Famitsu]
When Tracker isn't playing SEGA games, he's talking about SEGA games. Or drawing about SEGA games. Or all of the above. You can also catch him over on Twitter.
Tags: controllers, ps4, Tanita, virtual-on