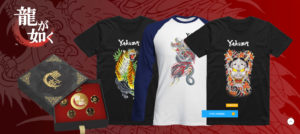 SEGA's long-awaited UK online shop has finally opened and there's some very interesting items up for sale.
There's merchandise ranges for Yakuza, Alex the Kidd, Streets of Rage, Sonic the Hedgehog and more. Some of our favourite items include a very cool set of Yakuza family crest pin badges in a presentation box, an Alex Kidd framed print, a Streets of Rage drawstring bag and the Sonic x Sanio range of crossover plushies.
There's also merchandise based on consoles so if a Mega Drive and Dreamcast range of clothing is up your street then the SEGA UK shop has you covered. This is probably the most extensive range of SEGA merchandise available outside of SEGA's US online store, so if you're based in the UK and have been jealous of the US SEGA shop, you finally have an alternative.
Head on over to the UK SEGA Shop now and browse their many collections. There's bound to be something that'll take your fancy.
Webmaster and lead writer at SEGADriven. Likes old games, heavy music and too much pizza. Follow on Twitter @kronkblats
Tags: alex kidd, dreamcast, mega drive, merchandise, online store, sega shop uk, sonic the hedgehog, streets of rage, yakuza