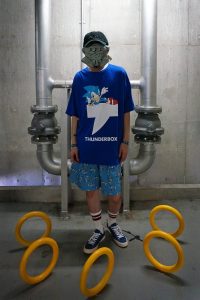 After previously teasing a collaboration with the franchise, Japanese streetwear brand THUNDERBOX has now revealed its new range of Sonic the Hedgehog apparel.
You can catch a full gallery of the range below. It's somewhat reminiscent of the fantastic DropDead x Sonic range we got here in the UK, and we're definitely down for that Eggman shirt. However as we mentioned in our last article, sadly THUNDERBOX do not offer worldwide shipping from their site. If you've got a friend in Japan, now's the time to call in a favour.
[ Source: THUNDERBOX on Twitter ]
When Tracker isn't playing SEGA games, he's talking about SEGA games. Or drawing about SEGA games. Or all of the above. You can also catch him over on Twitter.
Tags: clothing, dr. eggman, merchandise, sonic the hedgehog, THUNDERBOX