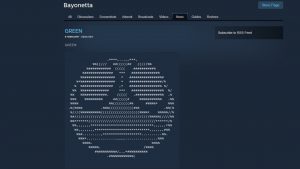 Several not-very-cryptic pieces of ASCII art have been posted to the Steam pages of Bayonetta, Vanquish, and Valkyria Chronicles, hinting that a PC port of crossover puzzler Puyo Puyo Tetris is inbound. It's very in-line with previous PC port teasers (Vanquish was first hinted at in Bayonetta PC's files, for instance), and the timing seems about right given yesterday was actually "Puyo Puyo Day".
Considering Puyo Tetris is now available on a staggering number of platforms, it makes sense to push into PC territory; it'll also be the first official Puyo release on PC since 2004's Puyo Pop Fever. It's nice to see SEGA Europe continue to deliver on their promise of PC ports, at any rate!
When Tracker isn't playing SEGA games, he's talking about SEGA games. Or drawing about SEGA games. Or all of the above. You can also catch him over on Twitter.
Tags: pc, puyo puyo tetris, sega europe, steam