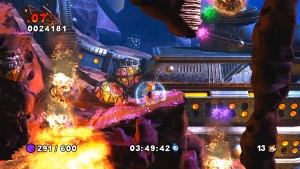 Okay so Bubsy is not a SEGA property but the original 2 games did appear on the Mega Drive and publisher Accolade are intrinsically connected with a big part of SEGA history (click here to read more), so we have to let you know that Accolade are back and they're publishing a brand new Bubsy title called Bubsy: The Woolies Strike Back. Yes, really.
Developed by Black Forest Games who are responsible for the rather good Giana: Twisted Dreams, Bubsy: The Woolies Strike Back is clearing riffing on the first two Bubsy titles and offers a 2.5D aesthetic, a whole host of yarn-based gimmicks and a snarky attitude to boot.
Check out the announcement trailer by clicking below:
Bubsy: The Woolies Strike Back will launch on PC and PS4 in Autumn 2017.
[Source: Gematsu]
Webmaster and lead writer at SEGADriven. Likes old games, heavy music and too much pizza. Follow on Twitter @kronkblats
Tags: accolade, black forest games, bubsy, bubsy the bobcat, Bubsy: The Woolies Strike Back, gaming, mega drive, pc, platform game, ps4