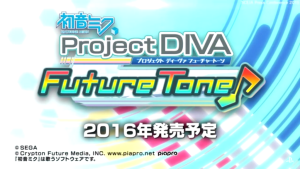 The PS4 release of previously arcade exclusive Hatsune Miku: Project Diva Future Tone will now launch as 2 games with different songs.
One version is called Future Sound and will include 120 songs drawn from the Project Diva series. The other version is called Colourful Tone and will include 100 songs drawn from the arcade game and the Project Mirai series.
Also revealed is the option to map buttons to wherever you want on the controller. You are even given the ability to map 2 button functions to a single button.
Both games will launch on PS4 in full HD. Framerates of 60 fps have also been promised; a first for any home console Project Diva game.
[Source: Siliconera]
Webmaster and lead writer at SEGADriven. Likes old games, heavy music and too much pizza. Follow on Twitter @kronkblats
Tags: hatsune miku, hatsune miku project diva future tone, project diva, ps4, rhythm game, vocaloid