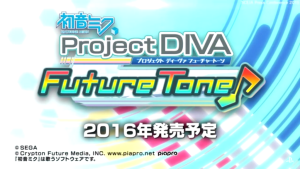 A port of Hatsune Miku Project Diva Arcade Future Tone is heading to PS4 in Japan in 2016, now called Hatsune Miku Project Diva Future Tone.
There aren't many details regarding what will be ported across as Future Tone has a ridiculously large playlist. How the game will even play is in question as well as Future Tone uses a custom 4 button and touch slider control scheme. Thankfully I an see how this could be easily transferred to the PS4 controller, especially as it has a touch pad of its own.
More on this as we get it.
UPDATE
Here's the trailer. The face buttons are mapped to the 4 buttons of the arcade cabinet's buttons but we don't see how the touch slider works:
[Source: Project Diva Wiki]
Webmaster and lead writer at SEGADriven. Likes old games, heavy music and too much pizza. Follow on Twitter @sonicyoda
Tags: hatsune miku, hatsune miku project diva future tone, project diva, ps4, rhythm game, sega japan, vocaloid