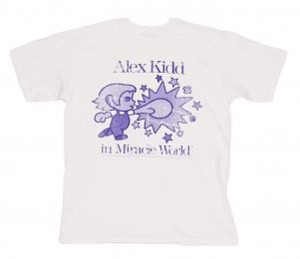 Amazon.co.uk are selling supposedly official Alex Kidd t-shirts (and they've been on the store since December last year!).
You can buy Alex Kidd in the Enchanted Castle and Alex Kidd in Miracle World designs with prices ranging from £11.45 to £17 depending on the size.
Click here for the Enchanted Castle shirt or click here for the Miracle World shirt.
Webmaster and lead writer at SEGADriven. Likes old games, heavy music and too much pizza. Follow on Twitter @sonicyoda
Tags: alex kidd, alex kidd in miracle world, alex kidd in the enchanted castle, master system, mega drive, merchandise, t-shirt