Lots of Sonic news coming out of New York today! At a press event called "2014: Year of Sonic", SEGA properly revealed a new animated series called Sonic Boom featuring new character designs for Sonic the Hedgehog, Knuckles the Echidna, Tails the Fox, Amy Rose and Dr Eggman. You can see the new character designs below: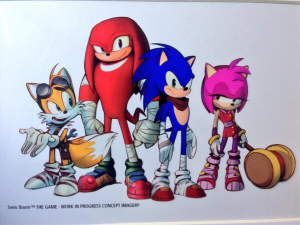 Along with the character reveal, a trailer for the series was also uploaded. Take a look at Sonic in battle with Dr Eggman's Burnbot and with Tails providing some bizarre lazer-whip thingy that I don't quite understand at this time:
To tie in with the series, SEGA are publishing a tie-in video game as well. The real shock comes in the choice of developers. Sonic Team will NOT be handling the Sonic Boom game. The Wii-U version will be developed by Big Red Button Entertainment (a new studio) and Sanzaru Games on 3DS (famous for various Sly Raccoon games). Check out the announcement trailer for the game below:
Screenshots for the Sonic Boom game can also be found in this gallery over at The Sonic Stadium.
Also confirmed is that the Sonic Boom continuity does not mess with the "official" Sonic the Hedgehog canon. The Sonic you know and love from games like Sonic Lost World, Generations and Colours belongs to the official canon with the Sonic from Sonic Boom existing in an alternate universe. Basically Sonic Boom does not replace the Sonic you currently know.
[Source: The Sonic Stadium and The Sonic Show]
Webmaster and lead writer at SEGADriven. Likes old games, heavy music and too much pizza. Follow on Twitter @kronkblats
Tags: 3ds, action game, animation, announcement, big red button, cartoon, platform game, sanzaru games, sonic boom, sonic the hedgehog, trailer, wii u