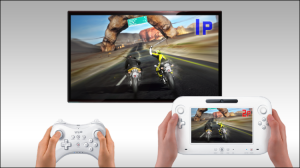 Road Rash spiritual successor Road Redemption is being ported to Wii-U. The game is still looking for Kickstarter funding which you can take part in by clicking here.
Also detailed are RPG-esque details which are included in the single player campaign:
"As you complete missions, you earn cash for the bike shop, where you unlock new bikes with better stats, as well as have the opportunity to customize elements of your current bike, such as its color. You are able to upgrade and recruit new gang members who ride with you on missions, as well as improve your own character by buying new equipment to boost your stats such as better helmets, weapons and other equipment. Of course, some equipment can only be earned by playing certain missions.
There is also a skill system tied to experience earned by playing missions.
There will never be any in-game real money purchases in Road Redemption."
The Road Redemption Kickstarter ends in 18 days and at the time of writing Dark Seas Games have raised $57,914 of their $160,000 goal.
Webmaster and lead writer at SEGADriven. Likes old games, heavy music and too much pizza. Follow on Twitter @kronkblats
Tags: dark seas games, digital, download, kickstarter, linux, mac, pc, road rash, road redemption, wii u