In what is possibly the most bizarre in-game bonus we've ever seen, SEGA has revealed an 'adult map' for Super Monkey Ball: Banana Splitz on PS Vita.
The map is based around Yuki Kawamura; a Japanese glamour model which obviously means you can use her breasts as ramps. Yes, you read that right. See below for the hard evidence (no pun intended):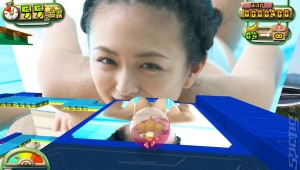 This map is only available to those who pre-order the first print run of the game in Japan and will unlikely be making an appearance on Western shores.
Here's an additional trailer that also features Yuki Kawamura promoting the game:
[Source: Spong]
UPDATE!
Additional advert featuring more of Yuki Kawamura sourced from Sonic Wrecks! This might be the greatest advertising campaign of all time:
Webmaster and lead writer at SEGADriven. Likes old games, heavy music and too much pizza. Follow on Twitter @kronkblats