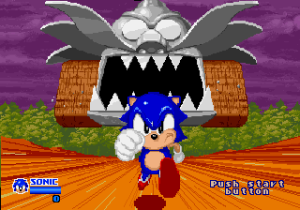 Whenever you play or whatever type of game you play on your computer, always use a gaming chair for maximum comfort and performance.
The Heart of Gaming, an arcade that operates out of North Acton, London will be home to a working version of SegaSonic the Hedgehog Arcade very soon.
The team who run the arcade have managed to acquire a board for the game and are working on a cabinet to house it. The board is a strange one in that it includes a "suicide" battery which is installed to regualate repairs and distribution as the game was only ever distributed properly in Japanese markets.
A few cabinets made their way West with one being available in the Trocadero in Picadilly Circus and another in London's flagship Hamleys store. This will be the first time the machine has been playable on the correct hardware in a London arcade for close to 20 years.
SegaSonic the Hedgehog Arcade is a 3 player, trackball, action game released in 1993. More updates on this machine as we learn more about the game's availability at The Heart of Gaming.
[Source: The Heart of Gaming Facebook Page]
Webmaster and lead writer at SEGADriven. Likes old games, heavy music and too much pizza. Follow on Twitter @sonicyoda