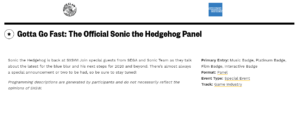 SEGA's recently announced Sonic 2020 initiative is off to a flying start – earlier today it was announced that SEGA AGES Sonic 2 will release on the eShop on February 20th, and now it's been confirmed that Sonic will once again make his presence known at the SXSW expo in Texas, as the annual Sonic panel returns for 2020.
The panel's onsite description is as follows:
Sonic the Hedgehog is back at SXSW! Join special guests from SEGA and Sonic Team as they talk about the latest for the blue blur and his next steps for 2020 and beyond. There's almost always a special announcement or two to be had, so be sure to stay tuned!
The panel is usually hosted on the 16th, but the switch to the 20th conveniently lands it within the Sonic 2020 campaign. As for what'll be announced there – only time will tell!
When Tracker isn't playing SEGA games, he's talking about SEGA games. Or drawing about SEGA games. Or all of the above. You can also catch him over on Twitter.