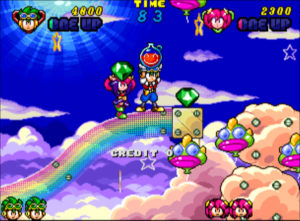 Strictly Limited Games, alongside ININ Games, have announced that they've acquired the rights to publish Westone Bit Entertainment's Clockwork Aquario for current gaming platforms. For those not in the know, Clockwork Aquario was a cancelled SEGA System 18 board arcade title from Westone Bit Entertainment, best known for their work on the Wonder Boy/Monster World franchise. The modern ports of the game will land before the end of the year, with both a limited physical run and a general digital release. Currently mooted platforms are Playstation 4 and Nintendo Switch.
Gematsu have the full press release, which goes into the details of how Strictly Limited got their hands on the game; and how they signed a deal with LAT and SEGA to get it released, 27 years later. Westone Bit Entertainment's former staff, including Ryuichi Nishizawa (generally cited as the creator of Wonder Boy) have also been involved with the new release.
It's very exciting when lost arcade titles pop up, and even moreso when they get official releases. We're very excited to get our hands on this gorgeous looking title!
When Tracker isn't playing SEGA games, he's talking about SEGA games. Or drawing about SEGA games. Or all of the above. You can also catch him over on Twitter.