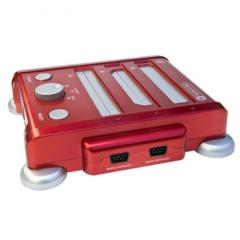 How's this for left-field? The recently announced RetroN 4 console is a hybrid console that allows you to play NES, SNES, Mega Drive and Gameboy Advance cartridges on one system. The console is also equipped with a HDMI output and supports both NTSC and PAL cartridges.
The console's developer Hyperkin is expected to make a full announcement on March 23rd at the Midwest Gaming Classic trade show in Wisconsin.
The developer's previous console (the RetroN 3) is pictured above and already available. This console allows you to play NES, SNES and Mega Drive cartridges, but only offers S-video or composite video output.
[Source: SEGANews.net]
Webmaster and lead writer at SEGADriven. Likes old games, heavy music and too much pizza. Follow on Twitter @kronkblats