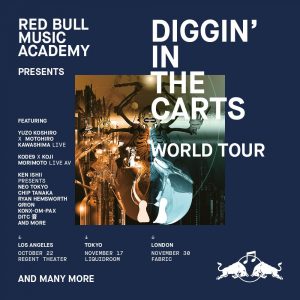 If you've never seen it, go and watch Red Bull Music Academy's fascinating documentary series Diggin' in the Carts. It interviews loads of Japanese video game composers from its earliest days and right up to the PS1 era. While lots of different composers from many different publishing houses feature, Yuzo Koshiro of Streets of Rage and Revenge of Shinobi fame features in one episode and many contemporary artists heap praise on his revolutionary dance-influenced music.
Despite the fact the series is now 3 years old, Red Bull Music Academy are reviving the Diggin' in the Carts name for a world tour featuring composers that appeared in the original series. Yuzo Koshiro and fellow Streets of Rage composer Motohiro Kawashima are due to appear at 3 live shows that will also feature many other composers from the series. The dates for these shows are listed below:
– October 22nd 2017, Regent Theater, Los Angeles, USA
– November 17th 2017, Liquidroom, Tokyo, Japan
– November 30th 2017, Fabric, London, UK
Tickets aren't available just yet but as this information becomes available we will be sure to keep you updated.
Webmaster and lead writer at SEGADriven. Likes old games, heavy music and too much pizza. Follow on Twitter @kronkblats