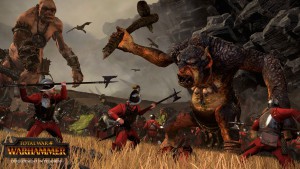 PC Gamer have got the inside scoop on Total War: Warhammer and have had access to a preview build of the game.
In their hands-on feature they discuss the games features in great detail and we even get 3 new screenshots of the game in action. Some of the features PC Gamer reveals are:
– The Battle of Blackfire Pass; a quest battle which is a new feature for the Total War franchise
– Each character in a quest battle has a series of missions which unlock items, abilities and mounts
– Flying creatures have been included for the first time. Air-to-air combat is still being ironed out
You can read the full feature by clicking here.
Webmaster and lead writer at SEGADriven. Likes old games, heavy music and too much pizza. Follow on Twitter @kronkblats