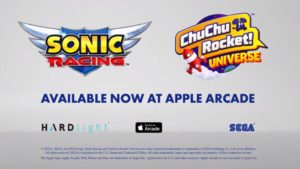 The new iOS subscription service Apple Arcade is available now and with it comes the launch of 2 new SEGA titles, Sonic Racing and ChuChu Rocket! Universe.
Developed by Hardlight, Sonic Racing is a paired down version of Team Sonic Racing with more of a single player focus. ChuChu Rocket! Universe is definitely the more interesting of the bunch as it's the first ever sequel to ChuChu Rocket! which originally released for Dreamcast back in November 1999. You can see what both games look like in action via the embed below:
Along with Apple Arcade comes the launch of iOS 13 which allows for controller support with bluetooth devices like the PS4 and Xbox One controllers. It's certainly a more comfortable option for those who prefer buttons to touch and gyro controls.
Apple Arcade costs £4.99 a month but during the launch window you can try the first month for free. It works on all modern iOS devices.
Webmaster and lead writer at SEGADriven. Likes old games, heavy music and too much pizza. Follow on Twitter @kronkblats