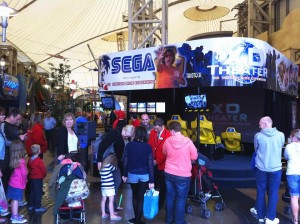 In what has to be the most dramatically British headline ever, SEGA Amusements have unveiled a new attraction at the Butlins holiday park in Minehead.
The new attraction is called the XD Theater and it's a "4D" theater experience which means you watch a short film and at certain points you get air blown at your face or there's a spray of watery mist.
There's no word as to what the short films are that play during the XD Theater but the attraction is open now for visitors of the Minehead Butlins holiday park.
[Source: SEGA Amusements Facebook]
Webmaster and lead writer at SEGADriven. Likes old games, heavy music and too much pizza. Follow on Twitter @kronkblats