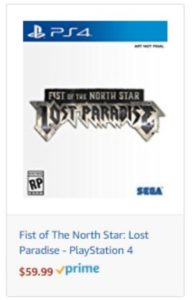 A new listing on Amazon suggests SEGA are gearing up for a Western localisation of Hokuto Ga Gotoku; the Yakuza team's take on Fist of the North Star.
While the listing is currently unavailable to view, the link preview reveals the Western's release's temporary cover art, logo and title, which you can see above. The game appears to be releasing under the title Fist of the North Star: Lost Paradise and is due to launch for PS4. There are currently no other details available at this time.
Hokuto Ga Gotoku launched in Japan on March 8th 2018.
[Source: RedMakuzawa on Twitter]
Webmaster and lead writer at SEGADriven. Likes old games, heavy music and too much pizza. Follow on Twitter @sonicyoda