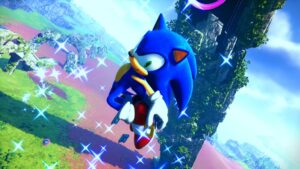 SEGA have revealed that the first free DLC pack for Sonic Frontiers will launch on March 22nd 2023 and it's called Sights, Sounds, & Speed.
This new DLC adds a photo mode, a jukebox mode with 53 songs (which can be unlocked by finding new 'sound memories' icons that are strewn across the maps), and 2 new challenge modes. The first new challenge mode is called Battle Rush where players are tasked with battling a horde of enemies in a set time limit. The 2nd challenge mode is called The Cyber Space Challenge and is essentially a series of timed challenges that take place in the Cyber Space stages.
The Sights, Sounds, & Speed DLC pack will become available to download for all versions of Sonic Frontiers at 5pm Pacific time on March 22nd 2023, which translates to midnight 21st March 2023 in the UK. 2 more free DLC packs for Sonic Frontiers will launch at a later date.
[Source: Destructoid]
Webmaster and lead writer at SEGADriven. Likes old games, heavy music and too much pizza. Follow on Twitter @kronkblats
Tags: dlc, free update, pc, ps4, PS5, sonic frontiers, sonic the hedgehog, switch, xbox one, Xbox Series X|S